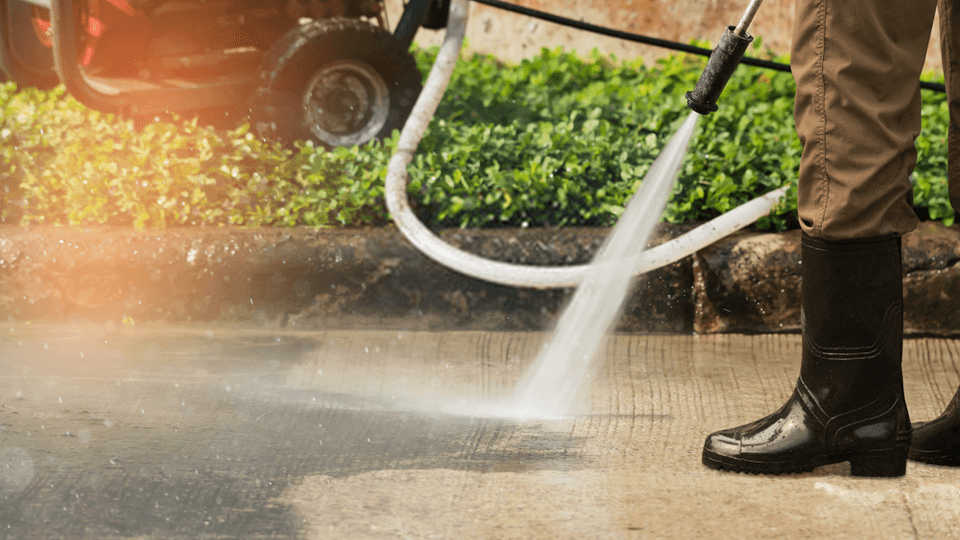 All Star Cleaning Services customises the pressure washing service to your needs – ensuring we use the right amount of pressure and heat to effectively remove oil, gum, dirt and other soils, without causing any damage to the material being cleaned or your surrounding property.
Is your house looking old, dingy and dirty on the outside? Our pressure washing service will remove all the grime and dirt, boosting your property value and curb appeal.
Our cleaning experts use proprietary low-pressure soft washing cleaning methods to clean your house exteriors. Not only do we use the correct temperature and pressure, but we also clean at the right distance – this allows us to achieve maximum cleaning effectiveness without risking damage to the surface.
We have many years of pressure washing experience under our belt to know what soft wash techniques work the best for various surfaces such as vinyl, concrete, cedar, stucco, wood, brick and aluminium.
All Star Cleaning Services makes use of environment-friendly cleaning products to ensure the safety and health of your property.
We use best-in-class pressure washing equipment. Our highly skilled technicians use the correct temperature and pressure to remove lichen, moss, mould, algae, mildew, grime and dirt without causing any damage to your roof.
We take additional precautions to ensure the protection of your property, such as inspecting your rain gutters for obstructions before spraying water on your roof.
Driveways see a lot of stains caused by oils and chemicals dripping from the vehicles going up and down on them – this causes them to get dingy and dirty.
Our experienced cleaners use our effective proprietary pressure washing method to remove the hardest of stains from your driveway – such as asphalt, hard water stains, rust, brake fluid, transmission fluid, tire marks, oil, dirt, mildew, mould and paint.
An outdoor living area like the patio adds tremendous enjoyment and value to your property – that is, only if it is kept attractive and clean. An algae-coated, grimly, dirty patio is a total turn off for entertaining guests or relaxing privately.
Our skilled cleaners can pressure wash any patio surface, including stone, pavers, bricks and concrete. We will gladly clean your stone or concrete benches, walls or planters around your patio.
We may be able to get your patio clean just by using hot water and pressure. However, if it has greasy or oily stains, we may need to use our proprietary cleaning agents to lift them. All Star Cleaning Services is committed to using the best-quality cleaning products that are both effective and environmentally safe.
You can count on our cleaning experts to clean your walls, parking areas, stairs, paths, sidewalks and exterior concrete thoroughly, quickly and cost-effectively.
We use specialised equipment, proprietary cleaning products, adjustable pressure wands and effective surface cleaner attachments to remove the toughest mess from your exterior concrete surfaces, including mildew, algae, gum, oil, rust, grime and dirt.
Foot traffic sprawls sidewalks with sticky gum spots, heavy grime, and food/drink spills – these messes spoil the look of your business, lower your property value and chase customers away.
Our cleaning experts use pressure washing to clean messes such as chalk, paint, grease, hard water, food spills, gum, oil, mildew, moss, mould and rust without damaging your pavers, bricks or concrete.
We also ensure that no water enters the home, offices and stores as we clean. We squeegee all lower windows clean when we are done with our pressure washing work – this ensures we leave your property cleaner than we found it.
Over time, dirt, dust, vehicle smoke, other pollutants and graffiti will stick to building surfaces causing loss of their clean and fresh appearance. Use the experienced Yorkshire-based All Star Cleaning Services to pressure wash your property.
Request a call back
to book your cleaning slot.